"IMPROVING THE LIFE OF MEGACITIZEN"
 
MegaCities ShortDocs is a general interest association in Paris founded in 2014. The association organises the yearly international contest of the best short documentary on the subject of megacities (urban areas of more than 10 millions inhabitants ; there are now 38 in the world.
« This very international initiative started out in Paris and aims to inspire citizen from the largest cities in the world with the use of short documentaries (ShortDocs). We are counting on commited citizen into videomaking to film examples of existing solutions to the heart of the largest cities in the world to inspire other inhabitants to take action », Didier Bonnet, Founder and President of MegaCities ShortDocs.
www.megacities-shortdocs.org
THE PARTNERSHIPS
MAKE A MOVE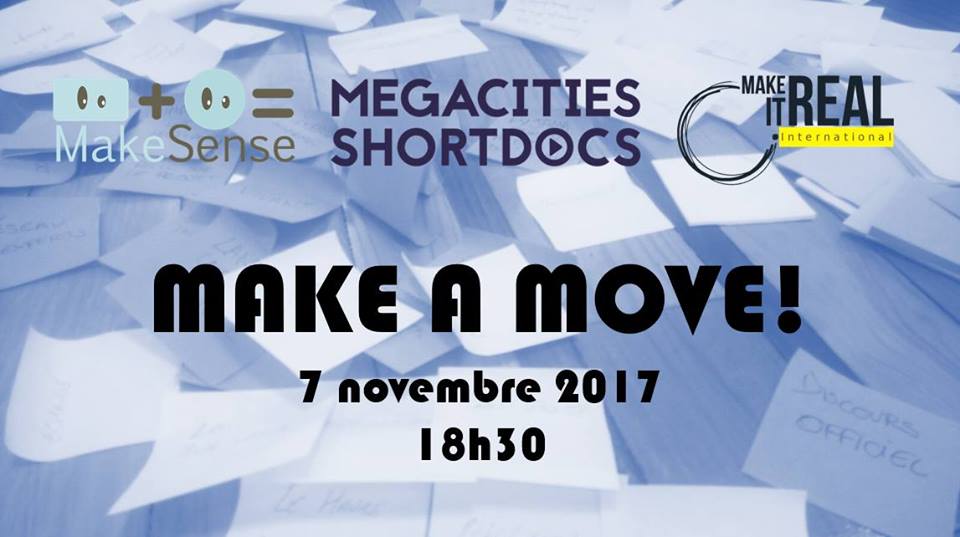 Each year, after the international awards festival held by MegaCities Shortdocs in Paris, MakeSense and Make It Real will encourage the public to take action through a new format entitled MAKE A MOVE.
GLOBAL AMBASSADOR PROGRAM
MegaCities Shortdocs also proposes help Make It Real Ambassadors located in MegaCities (NYC, Sao Paulo, Lagos, Shanghai, Tokyo, Mumbai) to document and spread social innovations that will emerge from their events by encouraging their participants to deliver an introductive shortdoc.
If you want to become an international correspondant, please contact contact@megacities-shortdocs.org.
If you want to become a Make It Real ambassador, please contact contact@realitymakers.org.